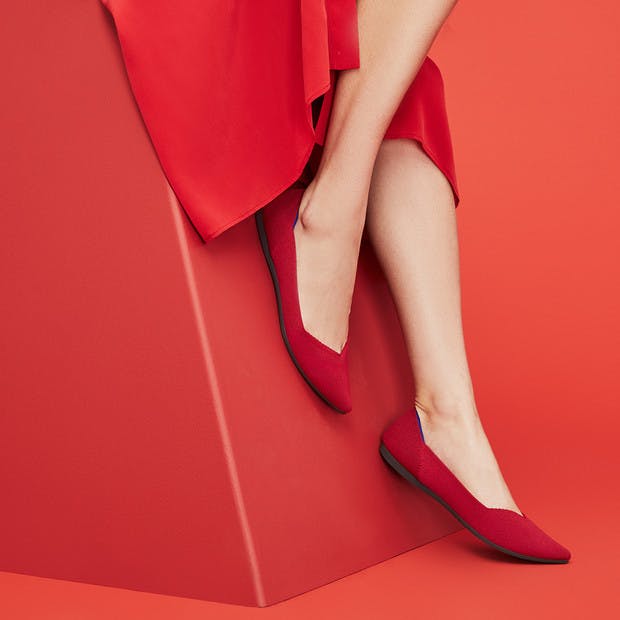 Bridal and Wedding Flats
Few moments in life compare to walking down the aisle on your wedding day. Among the many details (and outfit changes) that go into finalizing your big day, the shoes you depend on to carry you over the threshold play an important role. Celebrate the next chapter in your life in seamless, sustainable style and slip into a pair of premium crafted Rothy's.
Something old, something new, something borrowed, and something blue. This phrase takes on new meaning at Rothy's. Crafted from post-consumer water bottles, recycled foams, and vegan adhesives, our bridal flats turn waste into worth. Shipped and sealed with our signature blue ribbon, our biodegradable shoe boxes are packaged perfection.
Comfortable Bridal Shoes
With all the planning duties out of the way, it's time to party. Wearing flats for your wedding day is an excellent option for the bride looking for sophisticated versatility. Being the star of your own show means putting yourself (and your soles!) first. Regardless of whether you're going full glam, keeping it minimalist, or somewhere in between, a pair of comfortable bridal flats are a luxurious touch to your wedding day ensemble. Trust us, your toes will thank you later!
Rothy's carries a number of classic silhouettes that match every woman's unique taste and personality. Our pointed flats are a delicate balance between sleek edge and modern elegance. Our round-toe flat gives the classic ballet flat shape a sustainable makeover. Keep the shape you love while keeping single-use plastics out of landfills — that's fashion you can feel good about. Our lovely loafer delivers all-day wear that lets you walk, dance, and dazzle all night long.
Long after the wedding bells chime, your Rothy's will become your go-to footwear to pair with any outfit living in your wardrobe. Designed with ambitious women in mind, these shoes are built to last. Rothy's are machine washable and incredibly easy to care for, giving you years of understated sophistication. 
No matter which timeless silhouette you say yes to, your Rothy's are much more than wedding flats.
Bridesmaid Flats
One of the trickiest pieces to the wedding puzzle is pinning down the perfect bridesmaid strategy that speaks to the styles of each special woman. Rothy's collection of flats make excellent footwear options for a wedding day full of socializing, dancing, and celebrating.
Our flats come in a vibrant spectrum of rich colors and fun patterns that let each and every one of your bridesmaids embrace their individual flair. Your best gals will appreciate the fashion freedom! Kick off your shoes, or keep them on, as Rothy's deliver that coveted barely-there comfort you'll need on your wedding day.
Pro tip: don't forget your flower girl or ring bearer!
Rothy's selection of kids flats include cute shoes for your flower girls and ring bearers that perfectly match her playful spirit!