How We Wear It: Jenny Robinson
By weekday, you can find our digital marketing whiz Jenny Robinson diving into data and devising marketing campaigns. By weekend, the mom of two is chasing her little ones at the park, practicing yoga, or sneaking off for a fancy dinner with her man. The common thread? The Flax Birdseye Point.
"It goes with absolutely everything. I'm all about simplifying but I don't like compromising on style," Jenny says.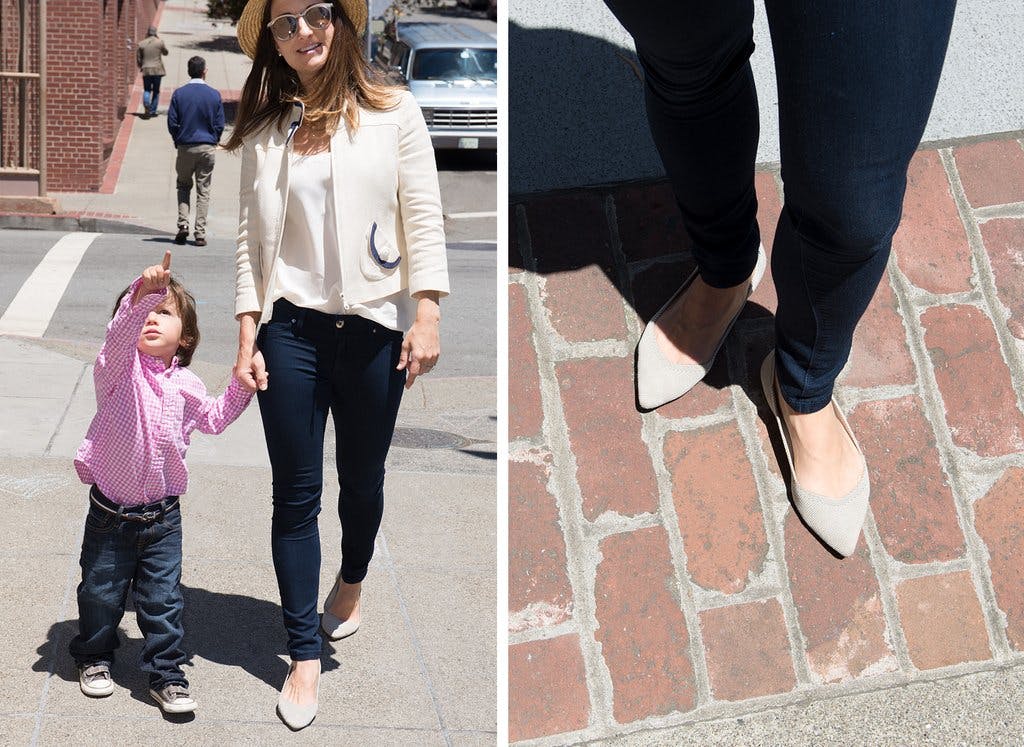 Here, Jenny shares four ways she wears her favorite neutral flat–whether she's tackling the hills on her (daily) walk to work or getting ready for a night on the town.
Blue jeans and a red-and-blue plaid, tie-waist shirt
Perfect for: Your day in the sun
Whether you're off to the weekend music festival or a picnic at the park, you'll feel chic and comfy in a fun shirt and your favorite pair of jeans. Our flax-colored flat fits right in – providing the perfect amount of polish without any fuss.
White jeans and a simple blue, bell-sleeved button down
Perfect for: A work-to-wine-night Thursday
Feminine and classic, a bell-sleeved button-down makes transitioning from the five o'clock meeting to six o'clock happy hour endlessly easier. Slip on our neutral flat and you'll be on point the entire time.
Camo green slouchy pants and a white, textured cashmere sweater
Perfect for: Weekend brunch or WFH
Nothing nails that relaxed-but-stylish look like slouchy pants and cashmere. Our Flax Birdseye Flat adds an extra bit of elegance that keeps you from looking too comfortable (but far from feeling that way).  
Black jeans and a black-and-white gingham shirt
Perfect for: Date night at the new dinner spot
A night on the town calls for a flirty shirt, flattering jeans, and a flat that can keep up. This outfit offers a little bit of everything, with the added benefit of shoes that'll boost your confidence without sacrificing your feet.