Sunday, September 2, 2018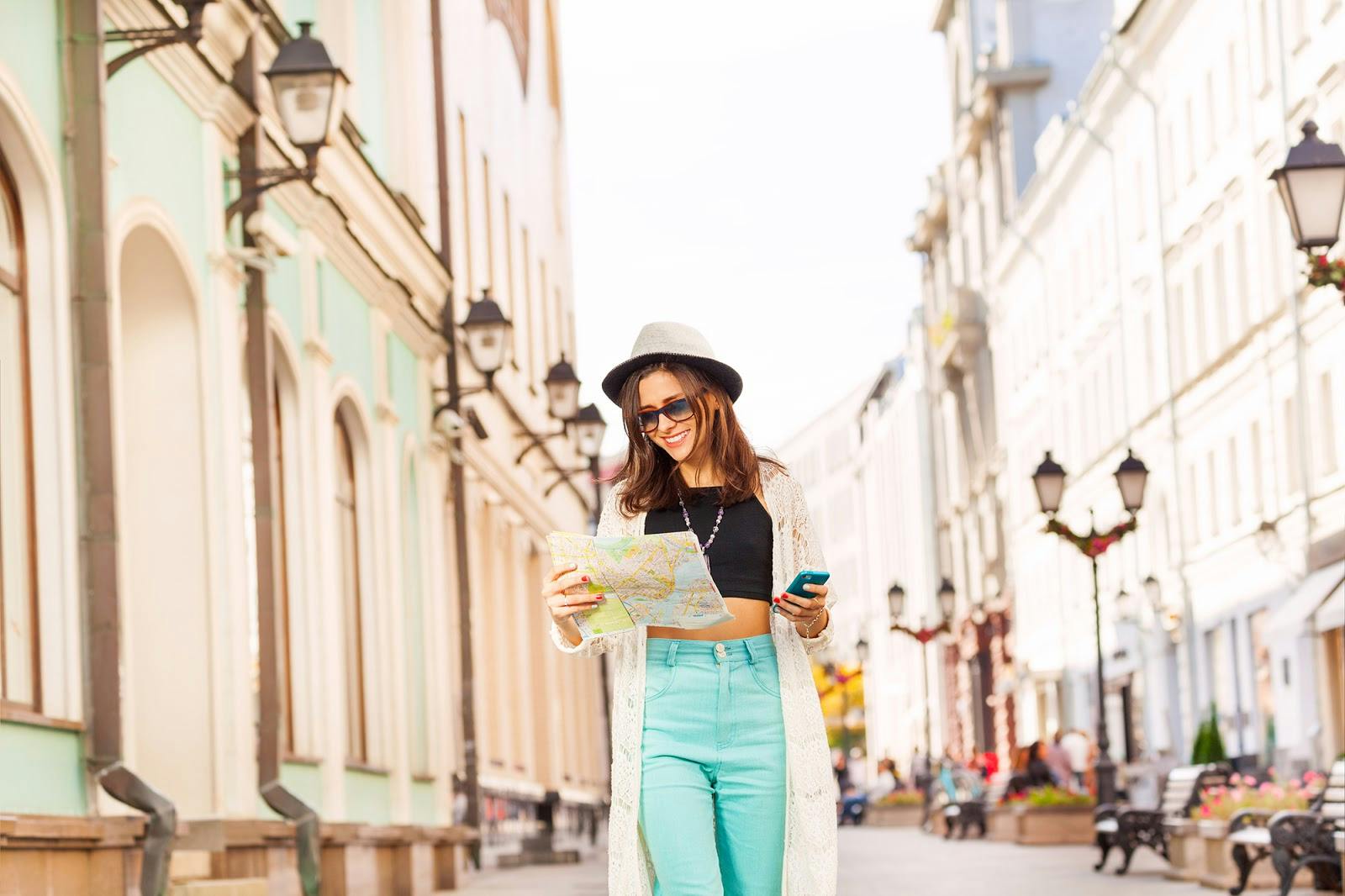 Not all who wander are wearing comfortable flats. That's not the J.R.R. Tolkien quote exactly, but it's still an important consideration you should keep in mind ahead of your next whirlwind adventure. Being able to move freely in your footwear is one of the most important facets of your travel wardrobe.
Why? First and foremost, your travel flats are the foundation for all of your outfits and can transform you from reluctant day-tripper to savvy jetsetter. You need to be able to efficiently snake through those TSA lines, slip them on and off easily, and power through long sightseeing days. Who knows, if you're wearing a chic pair of travel ballet flats, you might even get mistaken for a local – the ultimate style compliment while you're traveling.
Sure, it's easy to don a pair of sweatpants and call it a day to max in the name of comfort but you can look good, be comfortable and take on any cobblestoned street with ease with the right pair of shoes. It's time to elevate your style game and retire those flip flops.
Read on below for the best travel flats and what you should expect from a great pair of adventure-ready kicks.
How do I find the right travel flats for walking and sightseeing?
You just booked a last-minute flight to Italy in the spur of the moment, you turn to your closet to start mentally taking stock of your wardrobe and realize, Oh no, I don't have any shoes for this trip. We've got your back. Follow our tips to pick out a pair of flat shoes that will keep you sure-footed even if you're not sure about those iffy GPS directions.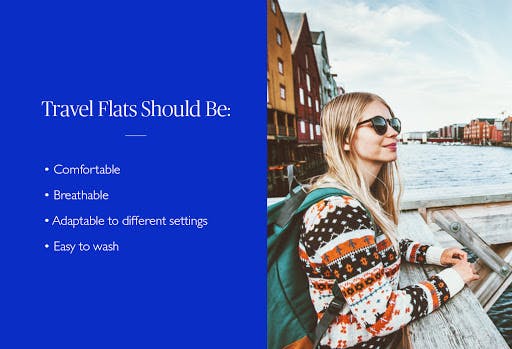 Comfort and Breathability
Navigating your way through airports and the storied streets of historical destinations means one thing: lots of walking. It behooves you to pay attention to comfort and breathability when you're searching for that perfect travel flat so you can confidently explore without being held back by your footwear.
On that same note, a well-ventilated shoe keeps your feet cool and dry even as you're blazing through different points of interest. This is especially important to remember if you're vacationing during the summer season when temperatures are scorching.
Versatility
Traveling necessitates flexibility: flights get cancelled, events get rained out – you can't plan for everything. Why should you expect anything different from your shoes? A change of plans doesn't have to spell disaster, just make sure your travel flats have the adaptability to transition from day to night. A perfect pair of travel ballet flats, for example, can be a comfortable and stylish addition to your trip to the museum then to dinner and finally, as the perfect accompaniment to a night of dancing.
Easy-to-Clean
As much as we wish we could keep our travel flats in pristine condition, life happens. Dirty, dusty conditions can make those colorful shoes dingy. So, it's in your best interest to ensure your travel flats are easy to wash. You'll likely have limited footwear options – suitcases are only so big after all.
Cover All Your Bases
Wondering what comfortable walking shoes could possibly check all of those boxes? The answer is Rothy's – shoes that meet and exceed your travel requirements.
Rothy's are designed to contour to your foot, giving you a customized fit that's supportive and flexible. With no break-in period, they're comfortable from the first moment they're out of the box to mile three of your walking tour.
These aren't just flats, they're travel essentials made out of a breathable knit to encourage air circulation so you can focus on enjoying the sights, sounds, and tastes of your destination without distraction.
Rothy's offers four different styles to choose from: The Flat, The Point, The Loafer, and The Sneaker. Each style comes in unique color options which lend a unique statement to your outfit.
The best part? Rothy's are simple to clean. You can hand wash them in cold water or toss them in your Airbnb's washing machine on delicate. You're a woman on the go, it's time to invest in travel flats that keep up with your wanderlust.
What are some travel clothing essentials?
A great travel wardrobe has one main characteristic: chameleon-like versatility. Whether you're prepping for a trek through the walking routes of Europe or getting ready for a trip highlighting the best nightlife spots in Brazil, you'll want clothes and shoes that have the ability to transition from day to night.
We've curated a list of travel clothing essentials you don't want to forget while traveling. Remember, the amount you bring of each item depends on the duration and destination of your trip. You can always buy what you forget when you arrive, but it might be at a considerably higher price or hard to get. When you travel, peace of mind is a priceless carry-on every traveler needs.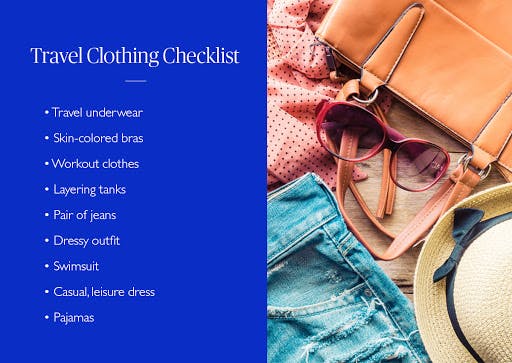 Travel Underwear
Make sure the underwear you bring on your travels is made out of moisture-wicking materials – let's get real, you're going to sweat. This isn't the time to pack that cute but kind of scratchy red bodysuit. We're not saying pack granny panties but we're not not saying pack granny panties, either.
Skin-Colored Bras
A few neutral-colored bras close to your skin tone is an ideal base for your getaway apparel because they can go under any shirt or blouse. A hot pink bra might seem fun but less so when you realize you can see it through any top from a mile away.
Workout Clothes
There's nothing more rejuvenating than a morning run in a new city. It's a great way to see wherever you're staying before all the tourists wake up. Or, maybe you decide you want to pencil in an unplanned hike, having the option to be active in comfortable clothes is a must.
Layering Tanks
Layers are a key aspect to any travel gal's attire. Weather can change in an instant, especially if you're somewhere in the mountains where it can be sunny and then suddenly, thunderclouds. Pile on the tanks and other layers for an easy, bohemian look. You can always peel off layers when it gets warmer.
Pair of Jeans
Easily the bread and butter of your outfits, jeans are ideal because they can be dressed up or down. Wear trendy cropped jeans with frayed edges for a funky look or go classic with black, high-waisted skinnies.
Dressy Outfit
Even if you don't feel like you'll go anywhere where you'll need to dress up, you might find yourself smack dab in a city where you feel underdressed. Be prepared and have at least one complete outfit that is more elegant and upscale.
Swimsuit
Unless you're planning on skinny dipping, a swimsuit is a good idea. Pools, beaches – maybe even puddle-jumping – could be in your travel plans. Don't sit on the sidelines, jump in!
Casual, Leisure Dress
Sweatpants with a tapered leg, a cute crop top and a bomber jacket could make you the street style icon of the city. Get ready for casual days on your trip with fun, understated looks.
Pajamas
Sleeping in a new environment can already be pretty difficult. So, make it easier on yourself and bring your favorite pair of pajamas. Again, make sure they're made of a breathable material in case you find out too late your hostel doesn't have A/C.
How do I style outfits wearing Rothy's?
If you're looking for the right shoe that will fit all of these different travel outfits and let you roam with sophisticated flair, Rothy's serves up the elegance and functionality necessary for travel flats to fit your world-traveler status.
Try some of the slip-on sneakers if you need a walkable shoe for getting from Point A to Point B. These kicks boast a thick, rubber tread to keep you stable. It's the perfect balance between fashion and practicality – simply choose between the different styles and colors to match your wardrobe.
The key to coordinating Rothy's with your outfits is paying close attention to balance and proportion. Whether you're running to catch a connecting flight or headed out for a night out in Paris, there's a pair of Rothy's that fits the bill.
If you're bringing along a niece or daughter on your vacation, the girls' loafers are the perfect gift to give her before takeoff! Grab your own pair of women's loafers for a matching look that'll keep you both in comfort and style.
Here are a few more suggestions for serving up amazing Instagram-worthy looks during your vacation:
Formal Event: Wear a black, full A-line skirt and satin blouse with The Point in Marigold to level up your style game.
Sightseeing: Pair rolled up boyfriend jeans with a crisp white button-up, brown belt, and hat with The Loafer in Mocha Spot for an outfit ready to take on a full travel itinerary.
Casual Brunch: The Flat in Black Solid is a workhorse style that can add a chic touch to a little black dress. Croissants and Rothy's – it's a perfect match.
Walking Tour: The Sneaker in Washed Pink is ideal with some high-waisted jean shorts, cropped tank, and semi-sheer kimono for easy summer-inspired style.
Travel Essentials for Your Carry-On
Your carry-on should have everything you need while you're traveling as well as 1-2 days' worth of basics you might need when you get to your destination. If you need more guidance on do's and don'ts for your carry-on, check out the TSA travel tips for more information.
It's always better to be prepared if the worst-case-scenario happens: the airline loses your luggage. In most cases, you'll get your bags back but there will certainly be a delay.
Here are a few travel essentials for your carry-on you should refer to before your next vacation: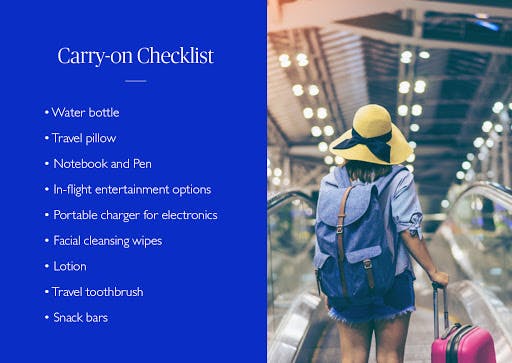 Water Bottle
A refillable water bottle is a great idea to avoid buying tons of plastic ones. Plus, you can fill up for free in many places.
Medication
Don't forget any medications you might need during your trek. This is something you want to be sure you take in your carry-on in case your luggage gets lost.
Travel Pillow
A travel pillow and even an eye mask can give you that much-needed shut-eye during your red-eye. Adequate sleep means more enjoyable adventuring when you wake up!
Notebook and Pen
If you make a point of writing a few sentences about your travel experience each night, your future self will appreciate being able to go back and remember those special memories.
In-Flight Entertainment Options
Bring books, pre-loaded podcasts, and other fun activities to pass the time.
Portable Charger for Electronics
If you forget to charge up before leaving your home before heading out on your adventure, a portable charger can mean the difference between life or death for your phone – at least until the next charge.
Facial Cleansing Wipes
At the end of a long day of travel, the last thing you want to do is spend five minutes washing your face. A face-cleaning wipe is a convenient solution when you don't have the time or energy to wash your face with soap and water.
Lotion
You might be surprised how your skin reacts to being in the cold, dry environment of a plane. Bring a small container of gentle lotion in case of unexpected dryness.
Travel Toothbrush
A travel toothbrush is a convenient, easy-to-pack essential that you will be glad you have if you're on a long flight where you might want to brush your teeth. Nothing like tucking into your salad and then realizing you might arrive at your destination with kale in your teeth.
Snack Bars
Days at the airport always feel long even if the flight itself is fairly short. Remember to pack yourself some snack bars unless you're ready to plunk down half of your life savings on in-flight food.
Travel Wallet
For your carry-on, it makes sense to invest in a travel wallet that is secure and safe. Protect your valuables and cash from potential pickpocketers who know you're vulnerable when you're distracted trying to get to the correct gate or port.
Travel Smart
If packing for a trip is an overwhelming activity for you, remember the Goldilocks rule: pack minimally enough so as not to overwhelm your suitcase and body with pounds of unnecessary stuff but pack enough that you're not going to run out of things like underwear going into day two.
When you're traveling, you want to be able to focus on getting the most out of the experience so avoiding distractions like uncomfortable shoes is a must. Rothy's has the travel flats with the design, durability, and comfort you need as you power through your sightseeing destinations. Check off that bucket list and do it in style.