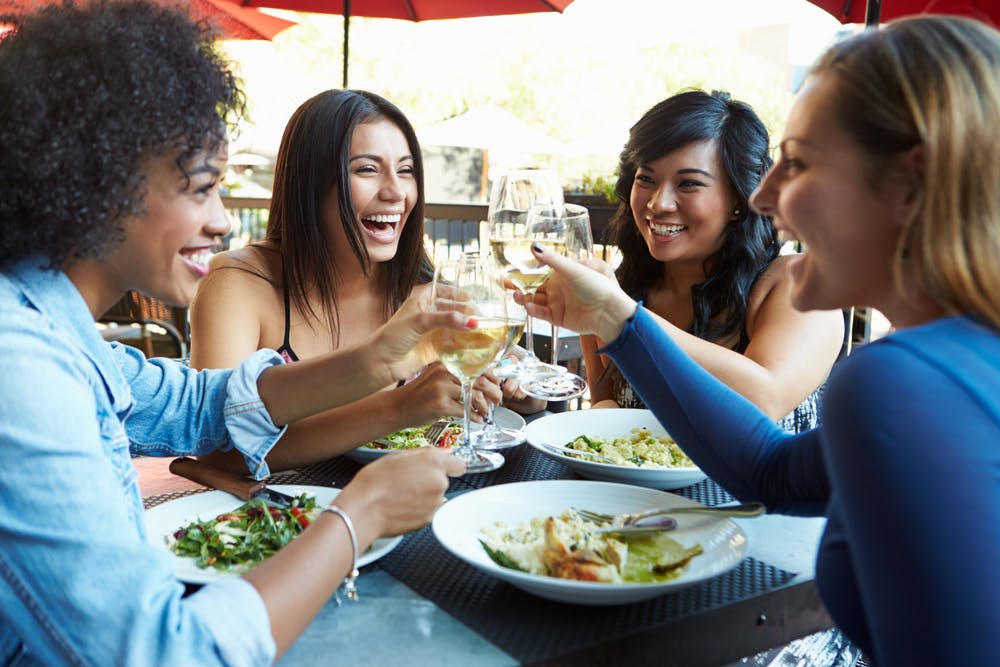 Whether you're chatting with the girls or catching up with family, you take brunch seriously. As a time to toast to the weekend and devour delicious breakfast plates, brunch is the ultimate meal. An excuse to eat loaded french toast and wear your favorite weekend wear? Yes, please!
A hip brunch spot with a picture-perfect outdoor patio is reason enough to take your favorite sundresses and floppy hats out of closet retirement. Staying cool in the AC? An oversized slouchy sweater pairs perfectly with your favorite pair of jeans. The possibilities are endless, and the perfect brunch outfit is all about embracing your unique style and letting your bubbling confidence shine through.
Your closet is already full of elevated possibilities, it's a simple matter of careful curation standing between you and your most sophisticated brunch outfits. We'll give you the rundown on how to style patterns, cuts, shapes, colors, and accessories to craft your chicest closet ensembles.
What to Wear to Brunch: Patterns
What to Wear to Brunch: Colors
What to Wear to Brunch: Patterns

Mixing and matching solid colors never gets old— the number of contemporary combos you can pull together is truly limitless. Adding a dash of print or pattern fun into the mix makes everything feel a bit more whimsical and elegant. There's just something that feels so bright and beautiful about prints and patterns that adds zest to any brunch outfit. Our favorite brunch-time patterns are as follows.
Not quite your typical plaid pattern, gingham is a summery alternative to an otherwise lumberjack-esque plaid. Unlike plaid patterned clothing, gingham styles are generally constructed with one color and white. Perfectly wrapped in symmetry, this airy pattern will have you feeling summertime-fine in no time.
The outfit: Familiarity is key when introducing yourself to the world of patterns. Your favorite dark or light wash relaxed jeans with a simple white tee looks fabulous on any given day. To spice it up for Sunday brunch with the family, slip on a black and white gingham blazer. Keeping with the theme of mixing work-casual and brunch-chic, finish the outfit off with a pair of cute flats.
As one of the most popular patterns within the fashion industry, stripes are the easiest go-to pattern. In fact, it's incredibly likely that you already have a few striped numbers living in your closet!
The outfit: Turn your stripe game around by venturing into the world of vertical stripes. A surplice neckline striped jumpsuit with a tying sash waist looks fantastic for any brunch occasion. Dress it up with a pair of glitzy earrings, or dress it down with a floppy straw hat.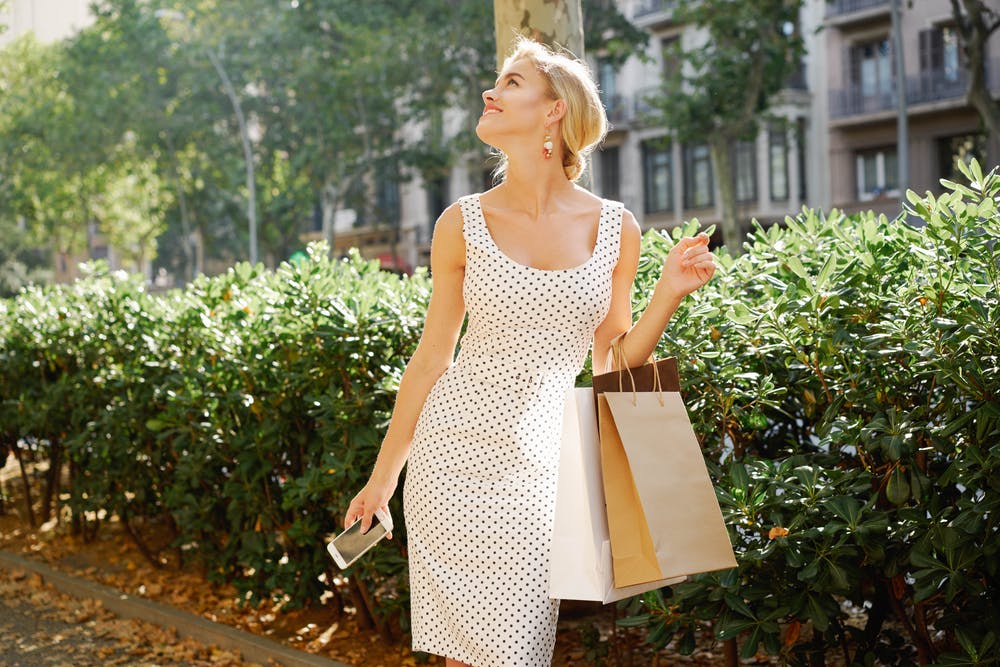 The beauty of the polka dot lies in its sizeable variety. Big dots, little dots, and all dots in between are adorable statement patterns that are equally flirty and fun.
The outfit: A flowy polka dot wrap blouse with a peplum hem paired with a simple white denim pencil skirt takes simple elegance to the next level. A bold colored pair of pointed flats neatly pulls this outfit together. Throw on a few dainty necklaces to jazz up your neckline and you're brunch-ready in minutes.
Floral prints are timeless classics that have stood the test of time for decades. No matter what season it is, incorporating floral patterns into your brunch outfits will make you feel like springtime year-round. Why wait for the seasons to change when you could blossom in the time it takes to make an outfit change?
The outfit: Big, bold and bright-colored floral prints are the way to go when you want to make a splash at brunch. A high-neck swing dress with the three B's will have you dressed to the nines on your next best friend date!
What to Wear to Brunch: Cuts

From necklines to pant hems, there are many wildly different clothing cuts that put a modern edge on staple pieces. Playing around with clothing cuts is an easy way to add a splash of variety to a uniform-feeling wardrobe. Even if you love a good go-to black top, switching up the neckline is the easiest way to keep your style fresh and youthful.
Experimenting with these stylish cuts while crafting your brunch outfits will have you flawlessly photo-ready at any given moment.

Tops
Square neck
Off-shoulder
Bateau
Cowl
One shoulder
Pants
Wide-leg
Cigarette
Frayed
Flare
Classic skinny
Skirts
Maxi
Asymmetrical
Mini
Wrap
Midi
Jackets
What to Wear to Brunch: Colors

We're constantly thanking our lucky stars that brunch isn't a seasonal meal—what we do without midday omelets? Even though brunch runs calendar free, the colors in your wardrobe are subject to the season's changes. Use this color guide to curate a coordinated color palette

Spring
Mint green
Soft yellow
Peachy pink
Lavender
Light blue
Summer
White
Fuschia
Turquoise
Red
Mustard yellow
Autumn
Maroon
Forest green
Cream
Mahogany brown
Orange
Winter
Black
Olive green
Heather grey
Blush pink
Navy blue

What to wear to a bridal shower brunch in the spring: Springtime brunch outfits should feel as light and breezy as you do. Using the budding trees and blooming flowers as inspiration, match a peach or pink colored pinafore dress with a soft-colored floral ruffle sleeve blouse to make those shoulders pop. A pair of nude espadrilles and geometric hoop earrings will gracefully tie these pretty numbers together.
What to wear to a summertime birthday brunch: Hello, sunshine! That sunkissed glow is reason enough to pull out those bold-colored pieces. Birthday celebrations should always be done in style, no matter what age you are! A mustard yellow Bardot dress paired with a pink pointed flats looks classy and exudes confidence. Add a dash of eye-catching color with a pair of turquoise tassel earrings.
What to wear to a baby shower in the fall: Fall is all about frolicking in the fallen leaves and making seriously good use out of your tall riding boots. In your downtime away from the foliage, your baby shower duties await. A pair of high-waisted burgundy wide-leg pants complements the season and occasion well. Teamed up with a light brown cowl neck top and a cream-colored trench coat, you'll be complimenting your own reflection!
What to wear to a Sunday brunch in the winter: Celebrating the weekend is best done in a warm and polished outfit. Piece together a black pair of cigarette pants with a slouchy heather grey turtleneck sweater, and finish it off with a forest green moto jacket. An understated pair of casual slip-on sneakers maintains that "woke up like this" aesthetic you're after.
What to Wear to Brunch: Extras

Accessories: the finishing touches to material masterpieces. No matter how you decide to identify your style (if you choose to at all), understanding the power of a tote bag or a pair of sunglasses is a must. If you're the type of gal who goes through those "I have nothing to wear" phases, accessories can be your saving grace. Rather than revamp your already fabulous wardrobe, making transformative accessory purchases will keep you out of mall clothing racks while opening a whole new world of possibilities.
Whether you're brunching at baby showers or country clubs, knowing how to dress up your flats, dresses, blouses, and jeans with accessories will set you up for style success. This master list of brunch outfit-ready accessories will look stunning paired with any and all of your chic ideas. Don't be afraid to experiment with prints, patterns and poppy colors!

Bags
Rattan straw crossbody
Vegan leather mini backpack
Snake print bucket bag
Beaded clutch
Metallic leather mini satchel
Jewelry
Boho stacking rings
Dainty zodiac necklaces
Multilayer choker necklace
Tassel earrings
Minimalist cuff bracelets
Hats
Wide-brim fedora
Cabby hat
Floppy straw hat
Boater hat
Knit beanie
Extras
Western belt
Bright colored headscarves
Dainty hair barrettes
Cat-eye sunglasses
Animal print scrunchies

Need a little creative inspiration to spruce up your favorite brunch looks? We've got you covered!
The occasion: Seaside brunch
The outfit: A white eyelet wrap dress paired with a pair of brown oxford sandals
How to accessorize it: A classic, beachy look like this one calls for a pair of tortoise-shell sunglasses and a woven wide-brim hat. Decorate those fingers with a couple gold stacking rings and you're set.
The occasion: Hosting family brunch
The outfit: Light wash mom jeans with an olive green bell sleeve crop sweater and leopard print flats
How to accessorize it: Brightening this outfit up with a rope and wheel headscarf gives it a refined edge that draws attention to your face.
The occasion: Last-minute brunch with the girls
The outfit: High waisted black skinny jeans with a silky blush pink lace camisole top and embroidered boots
How to accessorize it: Adding a bit of glitz and glam to this already posh 'fit is an elegant way to tie together a last-minute brunch outfit. A dainty silver boho necklace and a few loose silver bangles match the jazz of your eye-catching boots.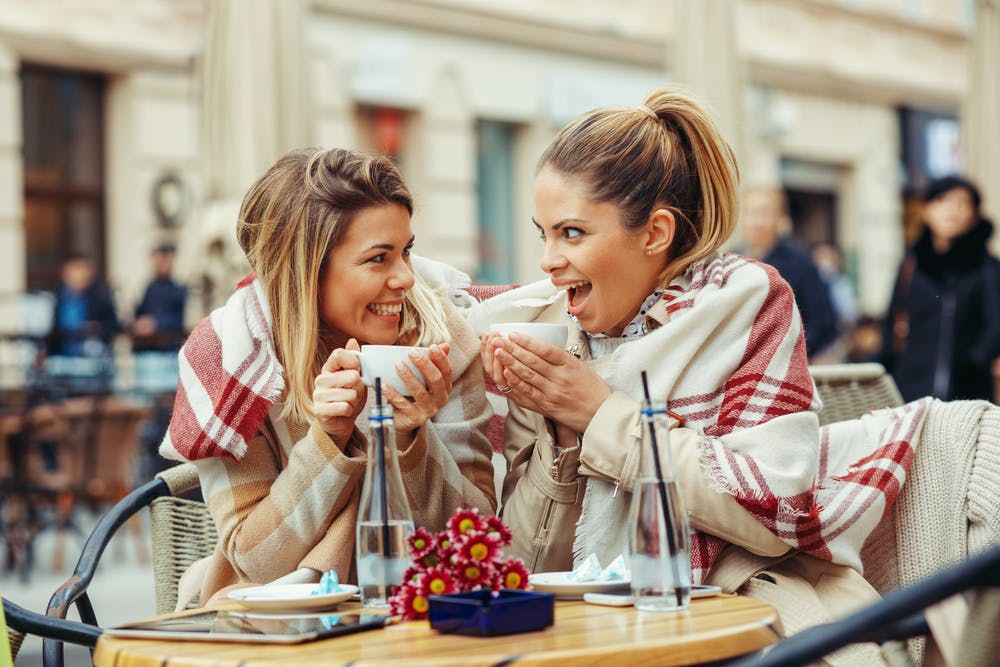 Piecing together your perfect brunch outfit is easier than you thought, right? Working with edgy cuts, poppy patterns, exciting accessories, and lively colors, you'll be the beacon of style sense at all of your upcoming brunch festivities.