The Sneaker is a game changer for your everyday life. So we think it's only fitting that we round up some of our favorite female game changers to talk about how they're disrupting their industries, just like The Sneaker is.
Without further ago, meet Lily. She's a landscape designer (and a former model) who does installations all over the world. Read below to hear how she got to where she is today and how The Sneaker takes her places.
We have so many women in our lives that we look up to on a daily basis. Who is that woman for you?
My mom! She's always worked with her hands: painting, sewing, building. I am only realizing now how deeply her crafts impacted my work. She loves projects, and when I was a kid she would help me build a playhouse, sew my halloween costume, or paint a diorama. Now my projects have gotten much, much bigger, but I know who planted the seed...
We designed The Sneaker for the game changers—the women who are up early, out late, and always heading in a thousand different directions. How does The Sneaker help you on those crazy days?
I just boarded a flight for Santa Fe, am hitting Los Angeles for some site visits and then off to Boston to speak at the FORBES 30 Under 30 Conference. The Sneaker slipped right on & off at security and will carry me through all the landscapes I'm running through the next couple weeks. Not only are they comfortable, nothing feels better than knowing these shoes are made from recycled plastic and are actually working towards helping the environment instead of hurting it.
What originally drew you to landscape design?
I grew up immersed in nature - building forts, leading a Nature Club, helping my friends on their farms. It was something I returned to only after studying Urban Planning and taking my first job as a project director at a landscape design firm. When I started working with the natural world again after stints in the art and fashion worlds, my imagination came back online and it became very clear landscape design is my calling.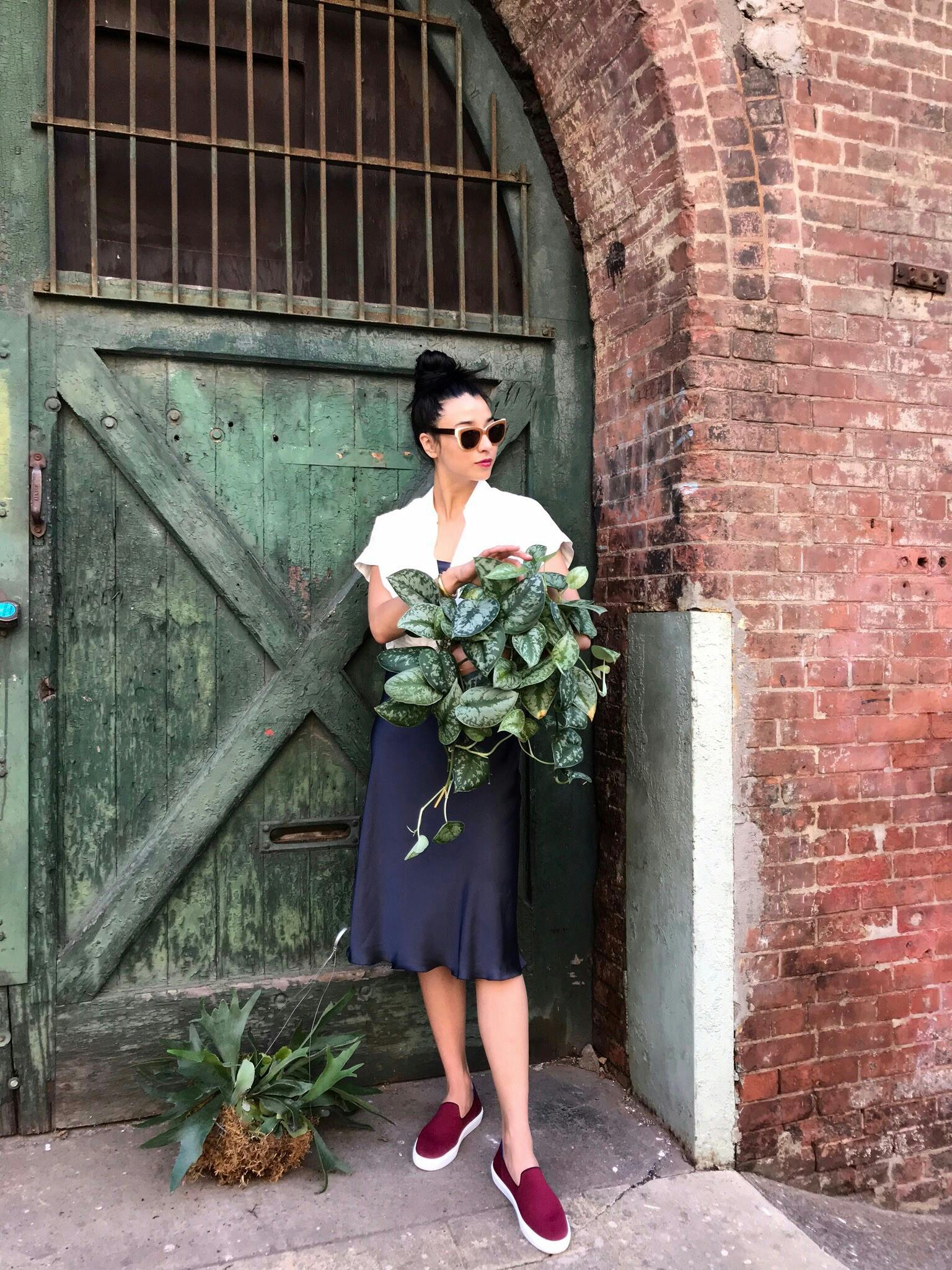 We know you're a San Francisco girl (like us!). How did growing up in Northern California define and/or inspire you?
I joke that I'm half Chinese, half Redwood tree. I grew up in Marin's Muir Woods, and the landscape definitely set my palette. I draw heavily from my Northern California roots when designing projects, and am always inspired by the light and naturalistic landscapes of my home. I know my sense of social and environmental responsibility comes from San Francisco's progressive legacy, and my mission is to make this world a greener and more sustainable place to live in.
We know you travel all over the world to design your installations. How do you manage to keep it all together while working, traveling, and juggling everything at home?
Radical self-care. That means making time for family & friends amidst the madness and practices like yoga, hiking and writing that keep me grounded. My work is so physical so I invest a lot of energy into keeping my body healthy: acupuncture, herbs, cooking and bodywork.
So it's obvious that you're a complete badass to us (not to mention we have major job envy!). What's next for you?
I'm currently building an interior jungle for an exhibition that opens in November in downtown New York and overseeing the installation of my first large-scale commercial landscape masterplan for a wellness & healing arts spa, Shou Sugi Ban House. My vision this year is to work on more permanent development projects that have a cultural and social impact. Onwards & upwards!
Shop Lily's favorites here.