The Sneaker is a game changer for your everyday life. So we think it's only fitting that we round up some of our favorite female game changers to talk about how they're disrupting their industries, just like The Sneaker is.
Without further ado, meet Rebecca. She's an OG Rothy's lover and a plastic-free champion. A teacher, surfer, and sustainability warrior, Rebecca was kind enough to let us in on her plastic-free secrets.
Rebecca, thank you so much for sitting down with us! We know you're an OG Rothy's fan and a major champion for a plastic-free world. Can you tell us a little about your month-long trip to the Indian Ocean this summer?
This was my sixth trip to Indonesia, but my first trip focusing on plastic rather than surf. We began every day collecting and testing surface water for microplastic. We then would do an audit where you take a meter by meter section of beach and record all trash and micro plastic found. I was one of the presenters and shared my story of how I became an advocate for a plastic-free classroom.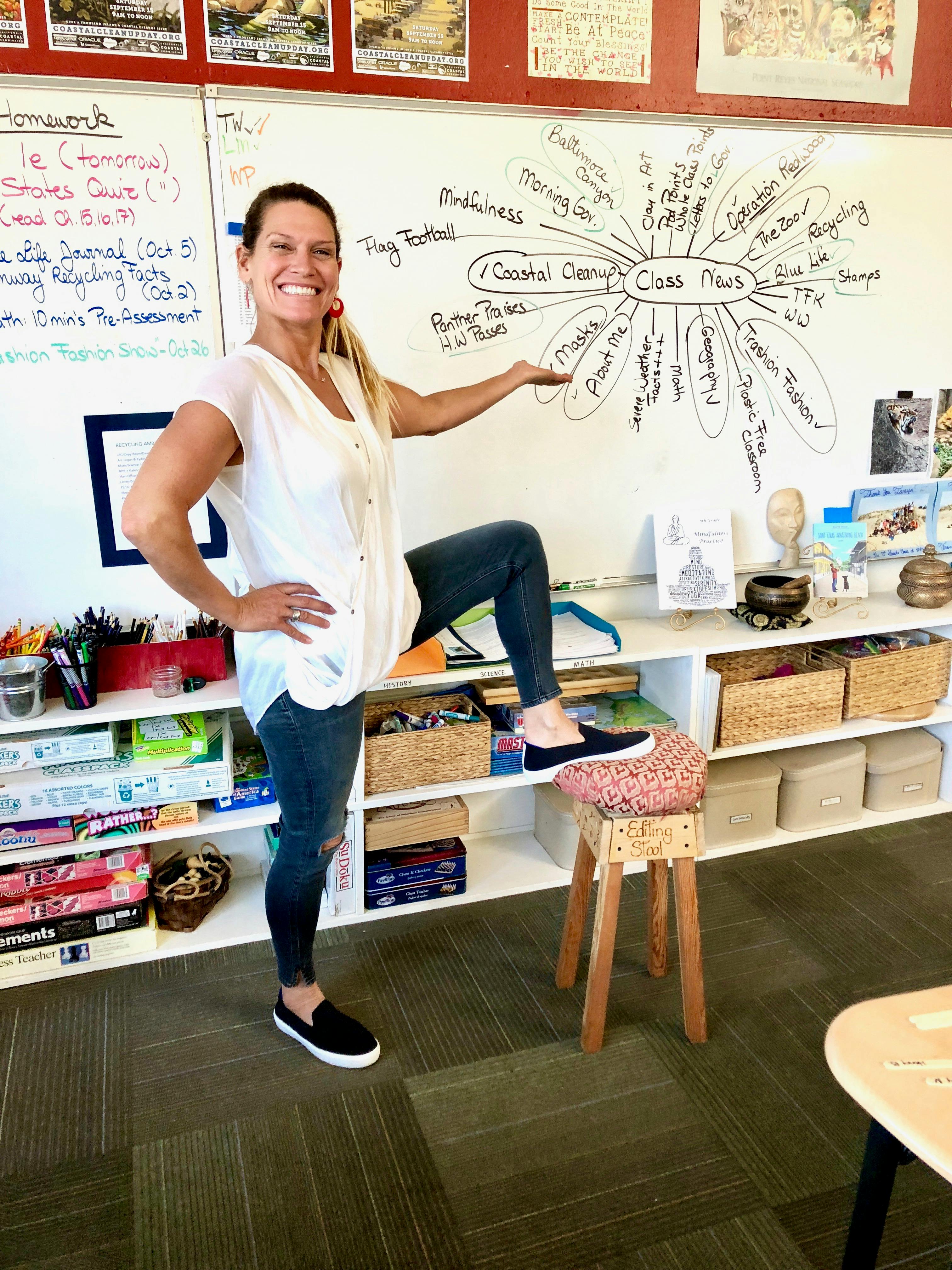 So, you teach by day and fight plastic pollution by night. And we hear you have a plastic-free classroom. How do you teach your students about plastic pollution?
Five years ago, I decided to make my classroom entirely plastic free. We switched all the plastic containers for baskets and got a trash can that has an insert so you don't need a plastic bag. All of my students switched to cardboard binders, recycled notebooks, and cork pencil pouches. I tell them to check their plastic at the door. I want us all to enter the classroom with an heightened awareness of plastic and contain a space together that is not dependent on it.
We know you lead with sustainability in your professional life; how do you do so in your personal life? How did you start educating yourself about microplastics?
My first moment educating about myself about plastic began way back on a winter mountaineering course in 1993. I was learning about how toxic synthetic fibers were for the environment, and I decided to become a vegetarian and wear only natural fibers. Simultaneously, I was working for Patagonia in San Francisco during the holidays and was hip to recycled plastic expedition gear. After that trip, my awareness and attention to how things are made and what they are made of has stuck with me. Making sustainable choices isn't always easy, but I try to have them guide me in my personal life.
We designed The Sneaker for the game changers—the women who literally do it all. Like you! How does The Sneaker fit into your busy, passionate life?
I'm on my feet all day, and I gave up wearing a heel years ago. I need a practical, stylish shoe I can teach in all day. I love wearing and supporting something with an inspiring and innovative story, and I love that The Sneaker is made from recycled plastic and is machine washable. It feels good to wear a shoe where you can literally walk the talk.
Shop Rebecca's favorites here.