Tuesday, December 18, 2018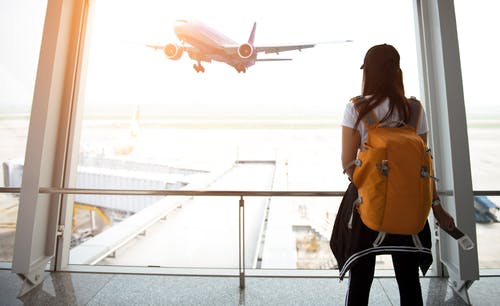 What to Pack for a Weekend Getaway
A weekend getaway is the perfect way to take a step back from hectic, everyday life and experience something new—whether it's a new city, a new meal, or an entirely new level of relaxation.
Perhaps you booked a trip to one of the best cities for a weekend getaway, or opted for a staycation in your own town! Stepping out of your routine for a few days can refresh and revitalize you, bringing your stress levels down and your happiness up right on up.
When it comes to packing for a weekend trip, however, you may find yourself stumped. A weekend getaway requires a certain level of minimalism — and a little bit of foresight. No one wants to schlep a bulky suitcase along for a few nights away, but a busy weekend full of plans may leave you planning for too many items for your weekender bag to handle.
If packing for a weekend trip has got you stumped, fear not! Read on for weekend trip packing lists tailored to your favorite genres of getaways.
Prepping the Essentials
First thing's first: there are a few items that your weekend trip packing list will require, no matter where you go. That includes items like:
Toiletries: Think toothbrush, toothpaste, shampoo, conditioner, etc.
Makeup: Depending on your plans, you may want to bring a few of your makeup essentials, or your entire collection - just keep space in mind!
Undergarments: Bring a few extra pair, just in case.
Pajamas: Cozy and comfy for those evenings spent in your hotel or Airbnb.
A charger: You'll need your smartphone at the ready for perfect pics!
Next comes the good stuff: fashion! The key to deciding what to pack for a weekend trip is selecting items that can perform double duty.
Your bulkiest items, especially outerwear, denim, and footwear, should be comfortable and versatile. That way, you'll be able to seamlessly transition through the day and into night with a few simple changes. That means less luggage to haul, less time spent getting ready, and more time to enjoy your weekend getaway.
For the Weekend Getaway With Girlfriends
A weekend with the girls is the perfect time to let loose and have fun. A few nights away with your best gal pals can mean a trip full of sight-seeing, delicious food, and bustling nightlife! You want to hit the streets in style with your favorite ladies, but no one wants to be the over-packer of the crew.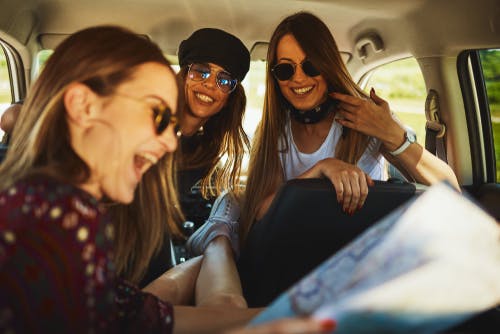 When figuring out what to pack for a weekend trip, first choose a good pair of jeans in a neutral tone, like classic blue or black. There's no need to bring more than one— a single pair can easily last you the weekend.
Your weekend getaway packing list should include a couple basic tees and a couple fun ones. This is your opportunity to bring some life into your look. Pick a fun pattern, or show off your impeccable music taste with a vintage tee featuring your favorite band. The most important thing is to opt for natural fabrics, which are more breathable and will last all day while still smelling fresh.
For the first night, pair your denim with a cute top that has a little sparkle or shine. On night two, rock a dance floor-ready dress in travel-friendly fabric. Tencel and knits tend to be extremely wrinkle resistant, allowing you to throw them on without the hassle of ironing (or the embarrassment of wrinkled clothing). For outerwear, live it up with a faux fur jacket for the ultimate cozy and stylish combination. Make your girls weekend your time to shine!
Finally, select a good pair of shoes that will keep your feet feeling comfy all day, so that you can dance the night away. A classic flat should be a staple item on your weekend getaway packing list.
Flats are about versatility—they're not too dressy for day, nor too casual for night. Plus, they're a good shoe for airports as you can easily slip them on and off when going through security. When selecting your flat, always consider comfort. Rothy's flats hit the mark; they're ultra-breathable and are comfortable from your very first wear.
What to pack for a weekend trip: Girl's trip
If you're ready to shake off the stress of the work week and make beautiful memories with your closest friends, make sure you're set with the following essentials:
Neutral pair of jeans: Easy to dress up or down, denim's a must.
A few tees in natural fabrics: Sweat-wicking materials is a good idea, and will keep you cool on your travels.
Fun blouse for night: In case the night calls for a bit of fancy fun!
Wrinkle-resistant dress: Low-maintenance and easy to dress up!
Faux fur jacket: Who says you have to be uncomfortable while on the road?
Comfortable flats: Comfy footwear is an absolute must, no matter your destination.
For a Romantic Weekend With the One You Love
When life gets busy, it's nice to set a weekend aside to explore a new place with the one you love. A romantic weekend full of relaxation, candlelit dinners, and strolls through a picturesque landscape gives you both an opportunity to reconnect away from your busy lives.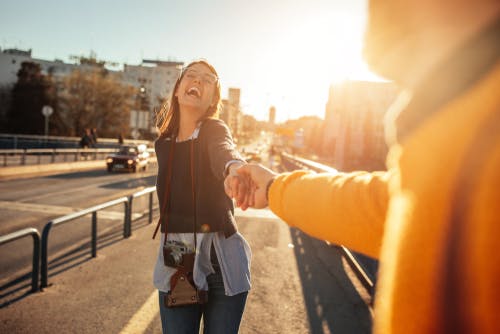 When packing for a weekend trip with your partner, ditch your everyday wear for something fresh and new. Surprise your loved one with a new outfit or two. Looking good for your partner shows them that you care and can kindle a renewed spark in your relationship.
For morning coffee and afternoon walks through the park, slip into a form-fitting pair of denim that highlights your curves. Pair your jeans with a few feminine tops. Small elements like a ruffled hem or a lace applique back put a little fun and femininity into an otherwise casual shirt. For a romantic dinner, you can never go wrong with a wrap dress in a wrinkle-resistant fabric. Wrap dresses accentuate your figure and look great on every body type. For outerwear, a leather jacket in a feminine cut works for day or night, and has just the right amount of allure to catch your partner's eye.
When it comes to your footwear, forgo the classic flat for a more sophisticated version: the pointed toe flat. Comfortable, yet girly and flirtatious. A pointed toe flat transitions with ease from a walk in the park to a fancy restaurant.
What to pack for a weekend trip: The romantic escape
If you and your sweetheart are hitting the road (or the skies!) for a weekend away, make sure you pack the following essentials in your weekender bag:
Pair of jeans: Jeans can take you through day to night.
A few tees: T-shirts can be kept casual, or dressed up with a few well-chosen accessories.
Wrinkle-resistant wrap dress: Get ready for date night!
Leather jacket: A classic look that will provide you with a bit of an edge.
Pointed toe flats: Comfy but refined, you've got the perfect combo of style and function.
For a Solo Trip to a New Place
Solo travel is something that every woman should experience at least once in her life. Not only does it allow you to do whatever your heart desires on your own time, but it gives you the chance to get to know yourself better. Exploring new places and foods, carving some time for introspection, and beautiful vistas that will take your breath away—where do we sign up?!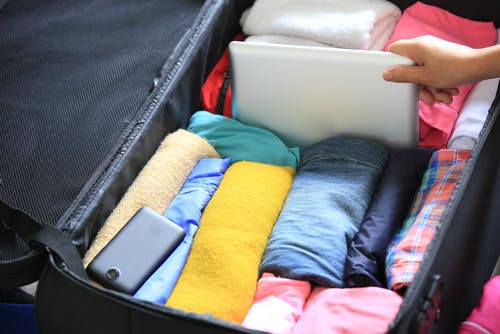 Solo trips are all about practicality. This is your opportunity to see, explore, and experience everything you want. Chances are, your days are booked with places to visit and things to see, so your wardrobe needs to keep up without the weight of a big bag bogging you down.
Two good pairs of pants are musts on solo trips. At least one should be a sturdy and comfortable pair of jeans that can take you through day to night. The other may be a cargo pant if you're planning on casual activities, or a chino if you've got something a little fancier in mind.
For a busy day, natural and breathable fabrics are a must. Pack a few tees and a sweater in case the weather gets a bit chilly. A denim or cargo jacket with plenty of pockets is a great option for solo travel—  that way you can keep everything you need on hand.
Finally, comfortable footwear is essential for solo travel. There's no greater choice than the trusty sneaker. Slip-on sneakers are a plus; no need to worry about laces. Just slip 'em on and you're out the door! Ours have no break-in period—meaning they're a perfect fit from day one.
What to pack for a weekend trip: The solo traveller
Ready to take on the world and learn new things about yourself and the world around you? Make sure you take the following staples on your solo travels:
Sturdy pair of jeans: Bring your durable denim on the road.
Chino or cargo pant: Add a little versatility to your wardrobe.
Several breathable tees: Look for lightweight shirts you can easily layer.
Light sweater: In case the air gets a bit chilly, you'll want to have this along.
Denim or cargo jacket with ample pockets: Travel alone safely, with plenty of secure storage places for your travel essentials (money, passport, etc.)
Slip-on sneaker: Casual and fun, the slip-on sneaker will help you log plenty of miles.
Final Notes
Remember: when packing for a weekend getaway, versatility is your friend! Pack wardrobe staples you can wear with more than one thing. Save space, keep your haul light, and focus on comfort while packing. You'll be strutting your style in a new place in no time!