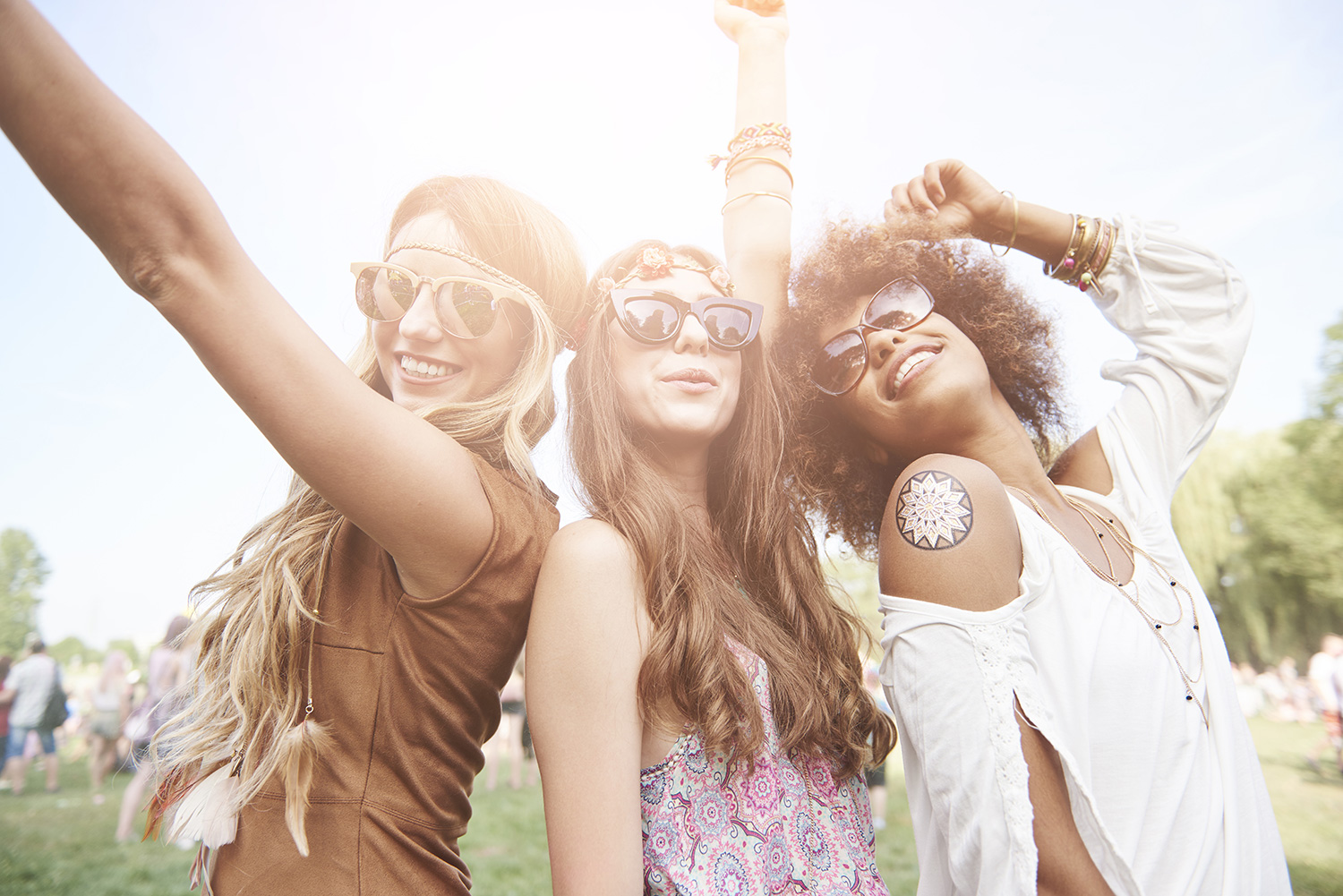 Warm weather, longer days, and weekly beach trips are all signs that summer is on the horizon. These warm tides of change come with a whirlwind of summer concerts that you've been looking forward to for months. If one thing remains true about the music and fashion industry over the past 50 years, it's that the two go hand in hand. Not only are summer music concerts amazing opportunities to watch your favorite artists perform the your favorite songs, but they're also the perfect venue for channeling your inner fashionista.
Whether it's pics of Kendall and Kylie Jenner or your best friends from college, you know it's that time of year again when the boho chic outfits flood your Instagram feed. You can paid a crochet crop top with distressed denim shorts for a summer concert classic, but why keep it basic when you're among celebrities and high-profile socialites? These cute summer outfit ideas will have you stopping the paparazzi dead in their tracks and leave them wondering, "Who is she?"
Outdoor day concert outfits
Daytime concerts mean all-day partying. Between the bottomless mimosas to kickstart your morning and the hours of dancing you'll do at the concert, you need a fashionable and functional outfit that will allow you to sashay and sway throughout your day.

Outfit #1: Bold & Breezy
Convey your lively spirit through your outdoor concert outfit by pairing bright colors and patterns with simple staples. A hot pink asymmetrical skirt with a white strappy back bodysuit lets you bring sexy back in a big way. This bold duo makes any skin tone pop. Get that model-esque, leggy look by fashioning your feet with a pair of comfortable flats. You'll appreciate the lack of a heel as you enter your third hour of boogying down. Worry less about sweaty toes; Rothy's flats offer great washability that promises that fresh feel you love for as many shows as are on your summer schedule!
Outfit #2: Lawn Seat Chic
Maybe the closer seats were sold out, or maybe you and your group of friends just wanted to kick back with a few drinks and a picnic blanket. Either way, you ended up with lawn seats. Just because your seats are the nosebleeds of the venue doesn't mean you have to skimp on fashion! Grab your favorite pair of distressed boyfriend jeans, a glittery mesh top, and a simple black bralette for a laidback rocker-chic look. Complete the 'fit with a pair of pointed black Rothy's flats, a pair of sunglasses, and a hook chain belt.
Outdoor night concert outfits
Doors open at 6:30, the show starts at 7:30, and the sun sets at 8:00. Sure, it'll still be warm out when you get there. But if you want to stay comfortable all night, you've got to plan your outfit for the night.

Outfit #1: Retro, Refined
Break out the old school flares and give them a sophisticated modern twist. A pair of high-waisted black bell-bottom jeans with an off-the-shoulder ruffle crop top bring that vintage 70's style into 2019. Accessorize with a colorful headscarf that can easily double as a shawl when the sun goes down. Pull it all together with a cute multi-layer necklace and a pair of wooden platforms.
Outfit #2: Gone With the Wind
No matter the weather, a flowy maxi skirt is always a good choice. Keep your legs protected from any chilly breezes while looking like a photo-ready fashionista by pairing a printed maxi skirt with a solid bell sleeve top. A wicker crossbody bag, ballet flats, and fun tassel earrings complete this easy-breezy summer concert outfit.
Rock concert outfits
Headbanging to sick guitar riffs should be done in style. Even if you have no intentions of moshing, you'll be doing plenty of jumping and solo air-guitar strumming to warrant a dark and edgy look. Get bad to the bone with these savvy ensembles.

Outfit #1: Instagram Baddie
Leather may not be the most practical material choice for the summer, but if you pick your pieces correctly, you can stay cool while looking even cooler. A vegan leather zipper skirt matched with a snakeskin bodysuit is a definite crowd pleaser. Top this 'gram-worthy rock concert outfit off with a pair of black platform ankle booties, a black moto jacket, and a bright red manicure.
Outfit #2: Moshing Mami
The circle pit is wide open and you're ready to dive in. A distressed band tee, a pair of high-waisted shorts and fishnet tights make for the ultimate mosh-ready outfit. Skip any extra jewelry glam, you won't want to lose it in the mess of people jumping and trashing. A cute pair of slip-on sneakers are the comfiest and most practical shoes for the inner rocker in you.
Pop concert outfits
Whether your pop concert lineup consists of Ariana Grande or Ed Sheeran, you need the perfect outfit to match the good vibes of your favorite pop artists. We've got two stellar concert outfit ideas: one for the gal who wants to keep it classy, and another for the gal who likes to mix it up.

Outfit #1: Showstopper
You won't have to be on stage to be the star of the show in this outfit. A red frilly peasant-style mini dress with capped sleeves paired with platform espadrille sandals make for a flirty pop concert outfit. Do it up with a few pieces of dainty jewelry and a cute bucket bag for a complete look.
Outfit #2: The Groupie
Sometimes less is more, which is why this outfit works so well for that summertime heat. Break out those fall time knee-high boots and slip on an oversized band tee. Seriously, that's all you'll need for this cute concert outfit. Add a bit of glam with a couple of chunky bracelets, a floppy hat, and a funky pair of sunglasses.
Country concert outfits
Fans of country music always look forward to summertime shows. From the tailgating to the masses of cowboy boots, what's not to love about country concerts? Practice that southern twang and brush up on your line dancing skills in these adorable outfits.
Outfit #1: Southern Belle
Looking for an occasion to wear a cute two-piece outfit? Now's your chance! A mustard yellow crop top and skirt set paired with matching marigold pointed flats will look stunning on any skin tone. Your outfit will be bright enough to make anyone smile. Finish this ensemble with a charming gold necklace for a runway-ready look.
Outfit #2: Carrie Underwood's BFF
That girl next door look is a timeless classic that doesn't get as much credit as it deserves. Basic as it may be, there's no going wrong with a white tee and a pair of mom jeans. Throw on a pair of heavy-duty combat boots, and you'll be well prepped to soak up the sun without letting any grass or mud cramp your style. Add a hint of razzle dazzle by toting a bright colored crossbody purse and a pair of simple hoop earrings.
EDM concert outfits
Nothing gets you fired up like a sick bass drop and an intense light show. Whether you're a self-proclaimed raver or not, EDM concerts are your favorite place to just get lost in the music. Get creative with your EDM ensembles this year by getting a little risky.

Outfit #1: Go Hard or Go Home
Channel your inner party animal by breaking out the neon colors and the over-the-top sequins. A neon two-piece set is your one-stop-shop answer to the perfect EDM outfit. Bike shorts and a zip-up halter top assure that you can shuffle into the wee hours of the night. Find a matching pair of sunglasses and hair accessories to pull it all together in one fell swoop. A mini backpack is the perfect tiny tote to keep you hands-free all day and all night.
Outfit #2: Low-Key Head Bopper
You're here to have a good time, but like to keep it as low key as possible to really get into the music. Instead of going for a flashier 'fit that will turn heads, you want to keep it cool and get lost in your own world. Opt for a simple cutout bodysuit with a neon orange skort for optimal coverage and cuteness! Kick it old school by wearing a glitzy anklet, doing your hair up with fun scrunchies, or digging up your old platform sneakers.